TRIAM A+ TMT Is Leading 550D TMT Bar Brand In India
Triam A+ Fe 550D owes its origin to Amit Metaliks Ltd.- one of the largest steel producers in eastern India. Owing to the superior quality products manufactured by the company, it is today proud to partner with the Steel Authority of India as their sole convergent agent in the eastern India region.
Triam A+ Fe 550D new age rebars – a superior quality product from Amit Metaliks are manufactured in the one-of-its-kind plant, situated in the eastern India region at Durgapur. With a rare mix of state-of-the-art infrastructure that includes Steel Melting Shop and Rolling Mill, the manufacturing plant has a capacity of producing 5.25 lakh MT of steel every year.
TRIAM A+ TMT maintains all Guidelines (last revision 2012) set by the Bureau of Indian Standards (BIS). TRIAM  Has Superior Tensile Strength Which Helps To Save About 20% Steel Compared To Normal TMT / Local TMT / Fe 415+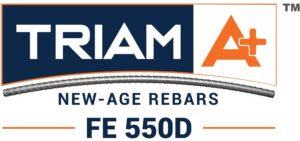 Why Should Take Our Dealership and Distributorship
Why Should Take Our Dealership and Distributorship

Amit Alliance, formerly known as AMIT Group of Companies, is one of the largest steel producers and leading manufacturers of premium steel products. Committed to excellence, the company has a unified purpose of contributing to nation's progress through its five major business verticals that include – Amit Metaliks Limited, Amit Mines Private Limited, Takshvi Infra Private Limited, Shivshakti Sponge Iron Limited and VSP Udyog Private Limited. Through operational efficiency, assurance of quality products and strong dealer network, Amit Alliance has gained phenomenal success within a very short period of time. Hailed as the harbinger of continual innovation, the company works towards ensuring the production of high quality materials ever since its inception in 2004.
Want to become an authorised dealer or distributor?